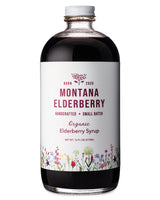 Powerful Immune Support
Experience our Organic Elderberry Syrup freshly brewed in small batches in beautiful Montana. Made with 100% natural ingredients including organic black elderberries, ceylon cinnamon, ginger, and raw unfiltered alpine honey harvested in Marion, Montana.
Nip it in the bud! We recommend taking our elderberry syrup every day - and then 4x daily at the first sign of illness. Study after study has shown that elderberry helps to significantly reduce the severity and duration of cold & flu symptoms.
Order today to begin experiencing the benefits of elderberry - including 61.5mg Quercetin per serving!
Order Now
Let customers speak for us